Why Professional Contractors Choose Schluter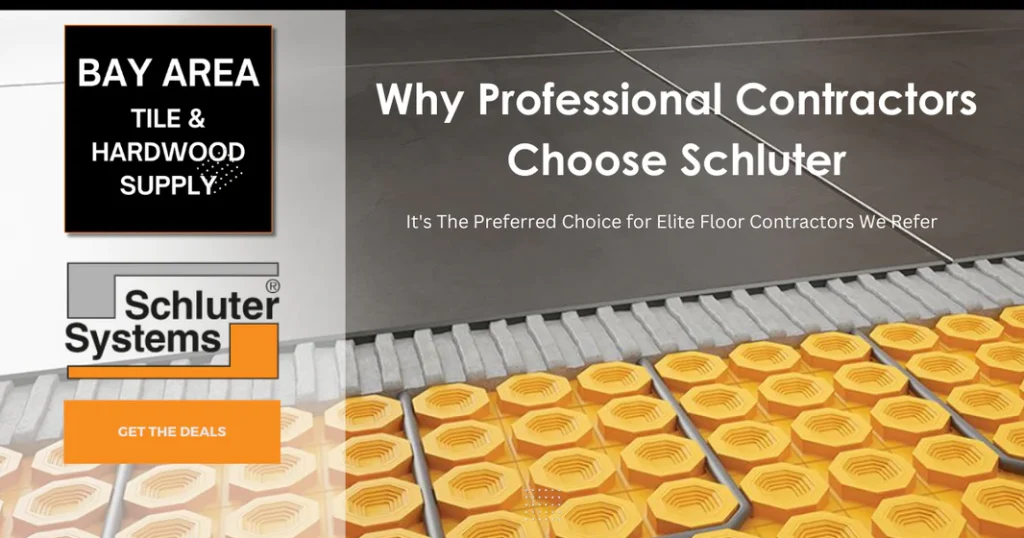 It's The Preferred Choice for Elite Floor Contractors We Refer
When it comes to tile and hardwood supplies for kitchen and bath remodeling projects, the choices can be overwhelming. However, professional contractors in the Bay Area know that there's one name that stands above the rest: Schluter. With a long-standing reputation for innovation, reliability, and performance, Schluter has become the go-to choice for elite floor contractors. In this post, we will explore the reasons why professional contractors choose Schluter and why hiring a contractor that utilizes Schluter systems is the preferred option for your remodeling needs.
The Schluter Difference
Schluter is not just another tile and hardwood supply company; it is an industry leader that has redefined the way contractors approach flooring installations. Their commitment to quality and cutting-edge technology sets them apart from other options available in the market. When professional contractors see the Schluter name, they know they are investing in a system that will deliver outstanding results.
Unmatched Waterproofing and Durability
One of the primary reasons why contractors choose Schluter is its unparalleled waterproofing and durability features. Schluter's integrated systems prevent water penetration and protect against moisture-related issues like mold and rot. For kitchen and bath remodels, where moisture is a constant concern, Schluter's products offer peace of mind and ensure the longevity of the flooring.
Simplified Installation Process
Efficiency is crucial in the fast-paced world of professional contracting. Schluter understands this and has designed their systems to streamline the installation process. Contractors appreciate the user-friendly nature of Schluter products, as they reduce installation time and costs, allowing them to take on more projects without compromising on quality.
Wide Range of Applications
Schluter caters to a diverse range of applications, making it an ideal choice for various remodeling projects. Whether it's a kitchen backsplash, a bathroom floor, or a complete renovation, Schluter has the right system to fit the requirements perfectly. This adaptability allows contractors to tackle any project with confidence, knowing that they have the right tools at their disposal.
Enhanced Tile and Hardwood Protection
Tile and hardwood are significant investments in any remodeling project. Schluter's products offer superior protection to ensure that these valuable flooring materials stay intact for years to come. With the support of Schluter's innovative systems, contractors can offer their clients a level of security and longevity that sets them apart from competitors.
Why Hiring Contractors That Use Schluter Is Preferred
As a homeowner planning a kitchen or bath remodel, it's essential to select the right contractor for the job. Here's why choosing a contractor that utilizes Schluter Systems is a preferred option:
Quality Assurance
Contractors who rely on Schluter products demonstrate a commitment to excellence. By choosing a contractor experienced with Schluter systems, you can be confident that your project will be completed to the highest standards. This level of craftsmanship ensures a beautiful and long-lasting result for your kitchen or bathroom remodel.
Customized Solutions
Each remodeling project comes with its unique challenges and requirements. Contractors familiar with Schluter systems can offer customized solutions tailored to your specific needs. Their expertise in selecting the right Schluter products for your project ensures a seamless and efficient installation process.
Reliable and Time-Efficient
Time is of the essence in any remodeling project. Contractors using Schluter systems can complete your kitchen or bath remodel efficiently and within the agreed-upon timeframe. This timely execution not only minimizes inconvenience but also saves costs in the long run.
Peace of Mind
Choosing a contractor that uses Schluter Systems gives you peace of mind. You can rest assured that your flooring will be protected from moisture-related damage and that your investment will stand the test of time. The added assurance of Schluter's warranty further reinforces the confidence you can have in your chosen contractor.
Contact Us for Elite Floor Contractors Using Schluter
At Bay Area Tile and Hardwood Supply, we take pride in being associated with a network of elite floor contractors who exclusively use Schluter systems. For your kitchen or bath remodel, we are here to guide you through the process and connect you with the right professional for your project.
When it comes to kitchen and bath remodels, professional contractors in the Bay Area know that Schluter is the name to trust. With its unmatched waterproofing, simplified installation process, a wide range of applications, and enhanced flooring protection, Schluter has become the preferred choice for elite floor contractors.
By hiring a contractor that utilizes Schluter systems, you ensure top-notch quality, customized solutions, reliability, and peace of mind for your remodeling project. At Bay Area Tile and Hardwood Supply, we are dedicated to connecting you with the best professionals who can guide you through every step of your renovation journey.
Did We Mention 25% OFF Schluter Finishing Products?
By the way, there's even more exciting news for those considering Schluter products! From now until the end of August, Bay Area Tile and Hardwood Supply are offering an incredible 25% discount on the entire inventory of Schluter products. This limited-time offer presents an excellent opportunity for homeowners and professional contractors alike to take advantage of the best-in-class systems at a more affordable price.
So, if you were already convinced that Schluter was the right choice for your kitchen or bath remodel, this amazing discount makes it an even more attractive option. Don't miss out on this fantastic deal to elevate your remodeling project with Schluter's cutting-edge technology and top-tier quality.
Let's work together to create a stunning and durable space that you'll enjoy for years to come!
Contact us today to access our list of elite floor contractors using Schluter, and let's make your dream kitchen or bath remodel a reality! Call: 925-406-3000