We Absolutely Love Seeing Mir Mosaics Tile Collections Tile Used In Client Projects!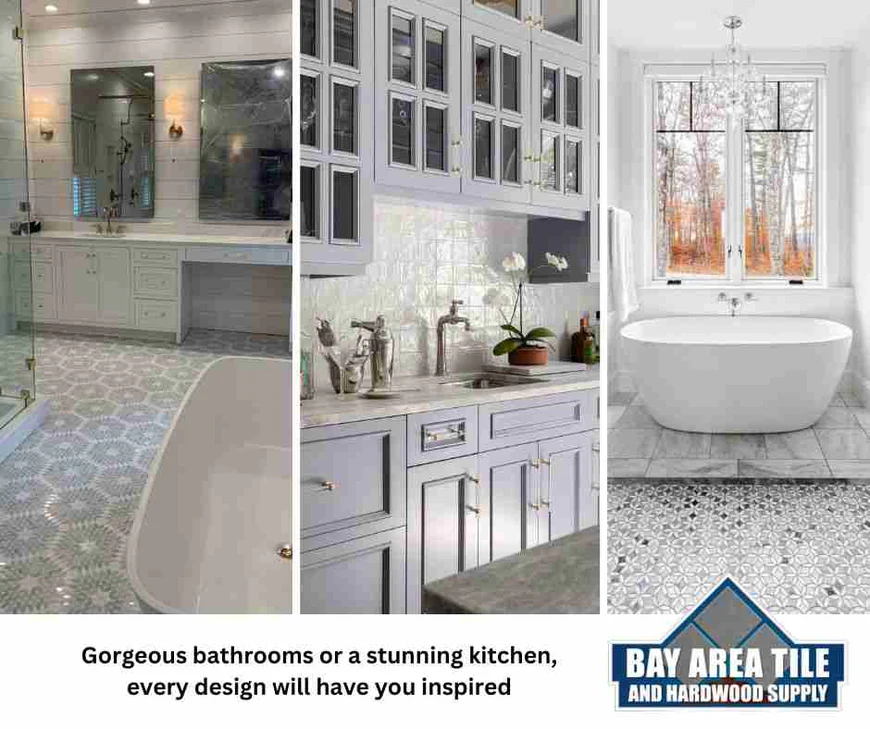 When it comes to embarking on a new tile project, there's nothing quite like finding inspiration to ignite your creativity. The stunning examples from Mir Mosaic Tile Collections are sure to spark your imagination and help you envision the endless possibilities for your own space. Whether you're dreaming of a luxurious bathroom retreat, a captivating kitchen backsplash, or a unique statement wall, the exquisite designs showcased in these photos will leave you inspired and eager to bring your vision to life.
Unleash Your Creativity with Mir Mosaic Tile Collections: Inspiring Designs for Your Next Tile Project
Marble Muse:
Calacatta Gold Marble
Design By: Euro Stone and Tile
Create your own luxury oasis with calacatta gold marble tiles from Mir Mosaic Tile Collections in your shower! This exquisite choice brings a touch of opulence and elegance to your bathroom. The calacatta gold marble's striking veining patterns and warm tones create a sense of luxury and sophistication. Imagine stepping into your shower and being surrounded by the timeless beauty of Mir Mosaic's marble tiles. It's a truly indulgent experience.
Shimmer and Shine:
Seagate Mosaics
Design By: Battaglia Stile
Shimmer, shine, and oh so divine! Mir Mosaic's shell mosaic tiles are the star of the show. These natural shell tiles create a mesmerizing effect, reflecting light and adding a touch of glamour to any space. Whether used as a backsplash or a feature wall, Mir Mosaic's shell mosaic tiles bring a sense of enchantment and elegance to your design.
Spa Oasis:
Ravenna
Design By: Lauren Milligan Design
We are dreaming of a relaxing evening enjoying this beautiful bathroom design featuring Ravenna tiles from Mir Mosaic Tile Collections. The soft hues and intricate patterns of Ravenna tiles transform your bathroom into a peaceful sanctuary, where you can unwind and rejuvenate after a long day. It's the perfect space to escape and indulge in a little self-care.
Living in Luxury:
Calacatta Bluette Marble
Design By: Christine Vroom Interiors
This luxurious shower design makes a gorgeous statement while maintaining a refined aesthetic with Calacatta Bluette Marble tiles from Mir Mosaic Tile Collections. The rich blue hues and intricate veining of these tiles exude elegance and grandeur, elevating your bathroom to a whole new level of luxury. Prepare to be transported to a world of opulence every time you step into your shower.
Fabulous Florals:
Palikir
Design By: Simmer and Soak
We are swooning over this fabulous design inspired by florals featuring Palikir tiles from Mir Mosaic Tile Collections. These tiles bring a burst of color and life to your space, with their intricate floral patterns and vibrant hues. Mir Mosaic's Palikir tiles create a fresh and vibrant atmosphere, infusing your kitchen or bathroom with a sense of energy and joy.
Spectacular Satin:
Satin Blanc
Design By: Casale Design Source
Mir Mosaic's Satin Blanc tiles elevate this kitchen with their eye-catching appeal. The subtle sheen and clean lines of these tiles create a contemporary and stylish look, making your kitchen the envy of all your guests. Prepare to be the host of memorable culinary experiences in this stunning kitchen.
Bold Blue:
Cobalt Blue
Design: Hotel Located in Miami, Florida
Make a statement with a bold blue subway tile from our Color Palette collection by Mir Mosaic Tile Collections. The Cobalt Blue tiles inject a pop of vibrant color and personality into your design. Whether used as a backsplash or an accent wall, these bold blue tiles from Mir Mosaic Tile Collections are sure to make a lasting impression.
Marvelous Mosaics:
Paraga Mosaics
Design By: Downtown Tile
We can't get enough of these marvelous mosaic tiles from Mir Mosaic Tile Collections that instantly capture your attention. The intricate patterns and harmonious blend of colors create mosaic masterpieces. Mir Mosaic's mosaic tiles add a touch of artistry and personality to your space, becoming captivating focal points.
Gorgeous Gold:
White Sunburst
Design By: Lavette Home Style
Mir Mosaic's White Sunburst tiles are so gorgeous, that they're sure to inspire you to whip up some new recipes in your kitchen! These tiles bring a touch of elegance and sophistication with their gold accents and intricate patterns.
Feature Festival:
Festival Mosaics
Design By: Kitchen and Bath Revamp
We are obsessed with this neutral design that features some extra flair using Festival Mosaics from Mir Mosaic Tile Collections. These tiles offer a blend of textures and colors, adding depth and visual interest to your space. They create a stunning feature wall or backsplash, becoming the focal point of your design.
Wonderful Waves:
Picasso
Design By: Adelyn Charles
Feel like you're at the ocean every day with Mir Mosaic's Picasso tiles inspired by waves. These tiles mimic the movement and beauty of ocean waves, bringing a sense of tranquility and serenity to your space. The soft, flowing lines and calming colors create a soothing atmosphere, inviting you to relax and unwind. It's like having a piece of paradise right in your own home.
Beautiful Backsplash:
Arezzo
Design By: The Carpet Shoppe
This design proves that neutral tile doesn't have to be boring – it can make a statement too! The Arezzo tiles from Mir Mosaic Tile Collections feature a captivating pattern and a mix of neutral tones, adding depth and character to your backsplash. They become a focal point that ties your entire kitchen design together, creating a cohesive and visually stunning space. Prepare to receive compliments on your exquisite taste in interior design.
We hope these inspiring designs featuring Mir Mosaic Tile Collections have ignited your imagination and sparked your creativity. If you're ready to transform your own space, visit Bay Area Tile and Hardwood's showrooms to explore the beauty and versatility of these incredible tile brands. Our knowledgeable team is ready to assist you in finding the perfect tile to bring your vision to life. Set up an appointment today and embark on your journey of creating a space that truly reflects your style and personality.